SALON-ISTAS LIGHT PAINTING
"A painting is not a picture of an experience, but is the experience."
(Mark Rothko)
M
any cultures believe that hair is a sacred expression of our individual and cultural identity, often celebrated with ceremonial braiding, coloring and ornamentation. And so it is no accident that one of the first acts to have taken place during cultural genocides throughout history has been to cut the long braids, locks and beards of native people. Still happening today, the result is a literal severing of the bonds of family, tradition, culture and/or religion, pride and community.
Likewise, it is no coincidence that one of our most powerful forms of individual, societal and political protests throughout history has been to grow ones hair longer (or shorter) than is deemed gender appropriate, die it in the colors of the rainbow, shape it into spikes, and cover it with extravagant extensions and wigs. Not to mention cutting designs into buzz-cut hair and sculpting facial hair. Flowing hair — as seen and felt while driving a convertible, motorcycle or bicycle — is often described as the embodiment of freedom itself.

We lit the night fantastic with
Kelly and Jenn — rebels with Balayage — who opened Salon Expert to bring excellence and expression together with the latest in professional coloring techniques in a chic environment
S
alon Expert's co-owners Kelly and Jenn couldn't decide what to put in their storefront after a recent expansion and renovation that featured mostly gunmetal gray hardware and rustic hardwood. For months, customers were welcomed by a blank 8-foot-wide floor-to-ceiling wall upon entering the front door.
I suggested we do a light painting to make a memorable impact, and print it mural-size, perhaps with back lighting (design proposal below)! They loved the idea of the vibrant colors and motion contrasting with the metal and hardwood.
For the photo shoot, I procured a set of LED hair extensions for them to wear and do their best "Farrah Fawcett" with. As the playlist expanded over the course of the evening, it wasn't long before rap rock — and the ghost of 80s heavy metal hair bands past — came out to play. We had a lot of laughs, one sore neck was reported the next day and the resulting images speak with volume (hair styling pun intended).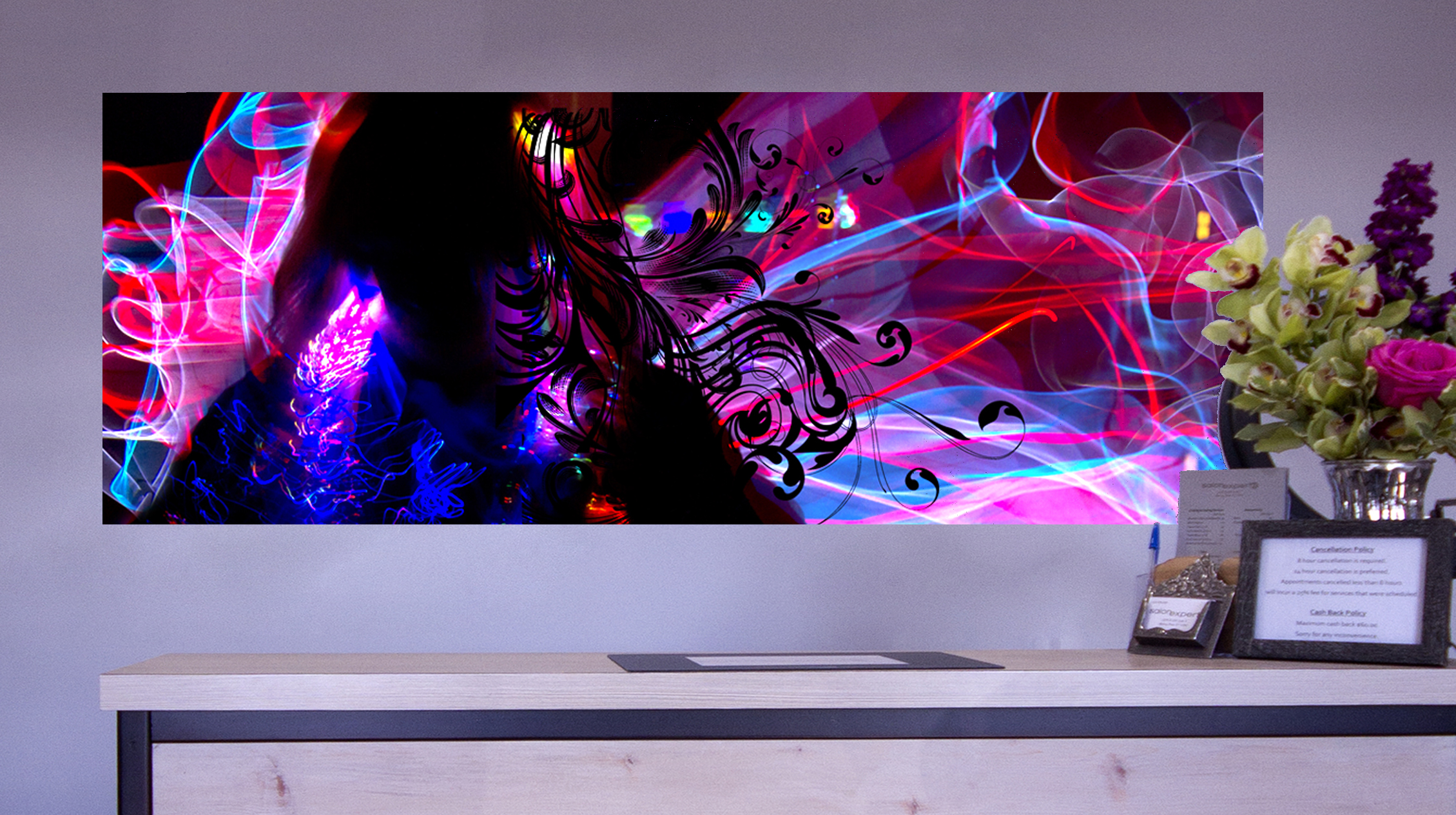 "Whenever you are creating beauty around you, you are restoring your own soul."
(Alice Walker)
Get notified about upcoming exhibits and public light paintings.
© All rights reserved. All images copyright Alina Wilczynski